For English, click here: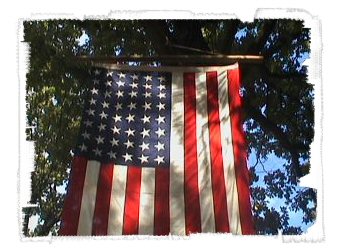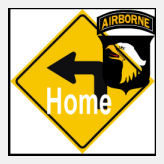 Foto's van recente Airborne Vrienden-evenementen
(Klik op de plaatjes om te vergroten)
Pictures of recent Airborne Friends events
(Click on the thumbnails to enlarge)

Op dinsdag 4 mei 2010 werden, tijdens de plechtigheden voor Dodenherdenking op de
Algemene Begraafplaats in Woensel, namens de Vereniging van Airbornevrienden bloemen gelegd
door leden van het bestuur.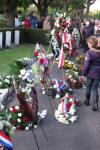 Op 5 januari 2010 hielden we onze jaarlijkse Nieuwjaarsbijeenkomst.
Bijna 60 Airbornevrienden aten, dronken en kletsten gezellig samen.
De voorzitter nam de plannen voor het komende jaar door.

Op 20 september 2009 vierden we de 65-jarige herdenking van Operatie Market Garden in 1944.
We bezochten de 6 dorpen en de stad Eindhoven waar een monument voor de 101ste staat, legden bloemen en luisterden naar toespraken.
Een foto-impressie:
On the 20th of September 2010 we commemorated the 65th Anniversary of Operation "Market Garden" in 1944.
We visited the 6 towns and the city of Eindhoven which have a monument for the 101st, laid flowers and listened to speeches.
A photo-impression:

Op 30 mei 2009 ontvingen de Airborne Vrienden in St. Oedenrode drie Amerikaanse Veteranen uit de Tweede Wereldoorlog;
Tom Kennedy van het 506e Regiment, Robert Herriot van het 327e Regiment
en Dwight Pangborn van het 511e Regiment van de 11e Airborne Divisie (gevochten in de Pacific en Korea).
Na een lunch in Restaurant de Beurs, volgde een kranslegging bij het Monument to The Dutch. Wethouder Dekkers van St. Oedenrode was ook daarbij aanwezig. /
On May 30th the Airborne Friends welcomed three American World War Two Veterans in St. Oedenrode: Tom Kennedy of the 506th Regiment, Robert Herriot of the 327th Regiment
and Dwight Pangborn of the 511th Regiment of the 11th Airborne Division (combat in the Pacific in the Korean War).
After a lunch, wreaths were laid at the Monument to the Dutch. Deputy Mayor Dekkers of Sint Oedenrode was present.
Memorial Day, 24 mei 2009. Airbornevriend Ton Slits legde de krans namens de vereniging. / Memorial Day, May 24th 2009. Airborne Friend Ton Slits laid the wreath on behalf of our Society.






















Tiende Ronde van de Vereniging van Airborne Vrienden. Van 13 tot en met 17 oktober 2008 met 41 Vrienden naar Engeland. / Tenth Round of the Society of Dutch Airborne Friends. From the 13th to the 17th of October 2008 with 41 Friends to Southern England.

Een korte impressie / This is a short impression: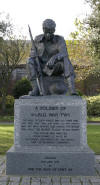 Voor een uitgebreid foto-overzicht, klik hier.
For a more complete photo-report, click here.
Onthulling en opening van de Alzenaubrug in Sint Oedenrode / Dedication of the Alzenau Bridge in Sint Oedenrode
21 juni 2008 / June 21st 2008
Memorial Day 2008
© COPYRIGHT 2013 ALL RIGHTS RESERVED Airbornevrienden.nl
E-mail: bestuur@airbornevrienden.nl